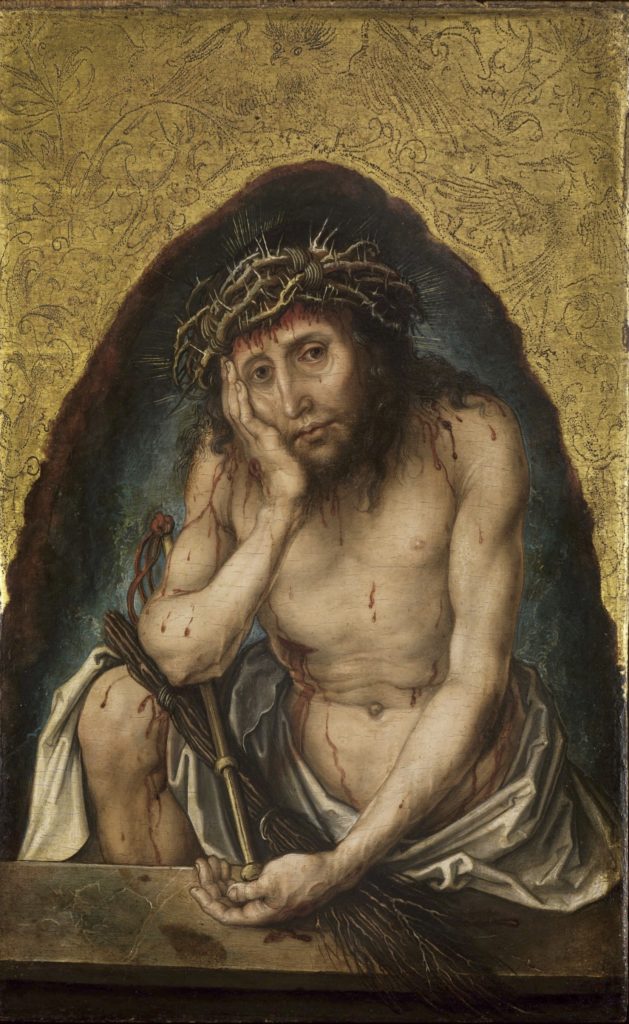 Albrecht Dürer (1471-1528) was the most famous German artist of his time. His father was a goldsmith from Nuremberg, who taught Albrecht his trade. Young Dürer expanded his knowledge of art by studying engravings, which led to a prolific career in wood carvings that spread thousands of his works throughout Europe. Traveling throughout Europe in his career, he put his hand to the study of painting, architecture, and geometry. Following the Renaissance in Italy, his works explore the use of light and motion and the human figure. His patron for much of his career was the emperor of the Holy Roman Empire, Maximilian I.
The Reformation began in Nuremberg when Luther's three treatises of 1520 were published (To the Christian Nobility of the German Nation, Babylonian Captivity of the Church, and A Treatise on Christian Liberty). Dürer read at least Babylonian Captivity of the Church.1 We do not know how Lutheran Dürer was, yet considering his wealth, he likely had influence on the city council which introduced Lutheranism in Nuremberg. David Price gives a quote which suggests that he was in fact a Lutheran: "And God help me that I may go to Dr. Martin Luther; thus I intend to make a portrait of him with great care and engrave him on a copper plate to create a lasting memorial of the Christian man who helped me overcome so many difficulties."2
The painting Christ as the Man of Sorrows was painted before the Reformation, likely around 1492-93, when the artist was a journeyman in his early twenties.3 Though some descriptions of the painting identify this as Christ before His crucifixion, this is wrong for a few reasons. First, the nail wounds of the cross can be seen in Christ's two hands, as well as the spear wound in His side. Second, the open tomb forms the background, with what appears to be a phoenix etched at the top of the door of the sepulcher, an ancient symbol of resurrection. Christ is risen.
His bloody appearance made people think He was not yet risen. But this is actually a trope that was popular in Dürer's time and beyond.4 Some paintings of Christ as the Man of Sorrows show His hands unpierced, but Dürer's and others' paintings show a crucified Christ risen from the dead. Dürer wanted to view the risen Christ as the crucified Christ. Why?
Perhaps Dürer was not yet a Lutheran, but he was familiar with the Scriptures of Isaiah the prophet (53:3-6), "He is despised and rejected by men, a Man of sorrows and acquainted with grief…Surely He has borne our griefs and carried our sorrows…But He was wounded for our transgressions, He was bruised for our iniquities; the chastisement for our peace was upon Him, and by His stripes we are healed."
Christ is risen, and we preach Christ crucified (1 Cor. 1:23). His body is glorious, but it is glorious precisely because this is the body that suffered and died for us. Look at Jesus' eyes in this painting. He is looking right at you. How is He looking at you? Perhaps in Dürer's mind Christ is calling him to repentance. Look at what I suffered for you! There is still a hint of pain in Jesus' eyes, and yet there is confidence. The cross calls us to repent, but Christ here—regardless of what Dürer may have believed at the time—is confident that it is finished, that the work of the Law is fulfilled, that the punishment that brought us peace was upon Him and by His stripes we are healed.
Look! He holds the whip and the scourge in His hand as trophies of victory! The blood still flows, because He still pours it out for the forgiveness of sins. And the eyes still look at you, because He knows your sorrow. He remembers. His wounds that He showed His disciples remain a constant memory of His love for you, of His mercy and pity that His eyes pour out on poor sinners.
If His blood and suffering frightens you, yet the suffering is over, because the tomb is empty. He is risen with the sorrow over, but He knows yours. He knows the need for your conscience, which fears God's wrath and the consequences of your sin, to be cleansed, to be freed from the curse of the Law. And you are freed from the curse of the Law by this Man of Sorrows who became a curse for you. I encourage you during Lent to come back to this painting again and again with the Scriptures, faith, and prayer. You can even order a print of this online and put it on your wall. Look at Jesus looking at you in mercy, knowing your sorrows, and able to change them all into a joy that no man can take from you.
End Notes
1 Price, David Hotchkiss. Albrecht Dürer's Renaissance: Humanism, Reformation and the Art of Faith. Michigan, 2003. 225–248.
2 Ibid., 225.
3 https://www.kunsthalle-karlsruhe.de/kunstwerke/Albrecht-D%C3%BCrer/Christus-als-Schmerzensmann/4CF6CD9D45DD6B1AC91CECAE9EC57F44/#
4 See, for example, the same titled paintings of Quentin Metsys from 1525 and of Aelbert Bouts from the same year. Both of these paintings portray the empty tomb with Christ wearing the crown of the thorns.